Advanced AFM Laboratory
Platform Leader: Neus Domingo
Main Research Lines
Piezoresponse force microscopy

Surface electromechanical phenomena by force microscopy

Scanning probe piezoresistance

Multifrequency AFM

Electric, magnetic and mechanical properties of nanoscale domain walls

Spectroscopy of electromagnetic interactions at the nanoscale
The Advanced Atomic Force Microscopy Platform is constantly developing novel approaches and methods for nanoscale characterization. This laboratory has pioneered research in nanoscale surface electromechanical phenomena; it has become a European reference in Piezoresponse Force Microscopy characterization and it has developed novel methodologies such as Scanning Probe Piezoresistance to study strain induced electric phenomena, and different approaches to detect flexoelectric phenomena at the nanoscale.
The Advanced AFM platform has state of the art microscopes available, with outstanding capabilities in operating temperature ranges, magnetic fields and environmental control. This, togheter with the wide available expertise in all AFM modes provides the laboratory with the perfect competence to develop a wide range of studies in nanostructures and nanodevices, from chemical or magnetic to electric or mechanical phenomena, and its entanglement.
Target focuses of study are ubiquitous, from crystalline oxide thin films to nanocomposites, nanoscale single crytals, polymeric fibers, 2D materials such as graphene, black phosphorous or CNT, biological samples such as viruses or functional operating nanodevices.

For more information:
Asylum MFP3D Atomic Force Microscope
Platform Leader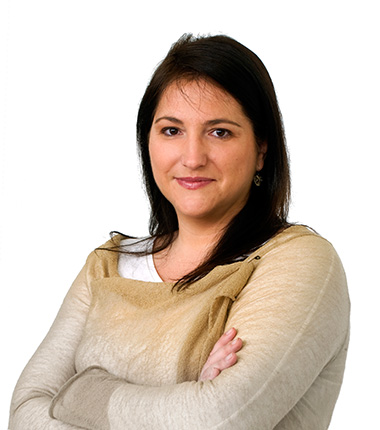 Neus Domingo
Dra. Neus domingo graduated in Physics at the Universitat de Barcelona in 2000 where she obtained her PhD in 2005 from the Fundamental Physics Department.
She stayed at the Istittuto di Struttura della Materia in Rome (CNRS) as a post dcotoral fellow for two years.
She joined the CIN2 in 2008 first as a Juan de la Cierva Fellowship and later on she integrated into ICN2 as a Ramon y Cajal Researcher in the frame of Oxide Nanophysics Group, leading the research lines in force microscopy. In 2016 she became the Head of the Advanced AFM Laboratory.